Vishal Mangalwadi - BIOGRAPHY
Born in Chhatarpur, M.P., India in 1949, Vishal studied philosophy at the Universities of Allahabad and Indore, then went on an intellectual pilgrimage to several ashrams to study Hinduism from some of its most influential exponents and spent six months in Switzerland studying under Christian apologist Francis Schaeffer. Soon after their marriage in 1975, Vishal and Ruth moved to his family farm outside of Chhatarpur to serve the poor in what was then one of India's poorest regions, plagued by armed gangs. There, Vishal wrote his first book, The World of Gurus (1977). It included his study of 13 Hindu gurus and explained why he had accepted Jesus as his guru. The book was an immediate best-seller.

In 1980, he was briefly incarcerated in Tikamgarh Jail where he began writing his second book, Truth and Social Reform. During the anti-Sikh riots that followed the assassination of Prime Minister Indira Gandhi in 1984, his office was also burned down. From 1984 to 1987, Mangalwadi was the honorary director of TRACI, and In 1984, he was appointed the Convenor of the Peasant's Commission of the Janata Party. In 1986 Vishal published Truth and Social Reform which anticipated some of the key ideas that would shape his message and ministry. This work was dedicated to his parents "who taught him that to love God was to love the poor peasants."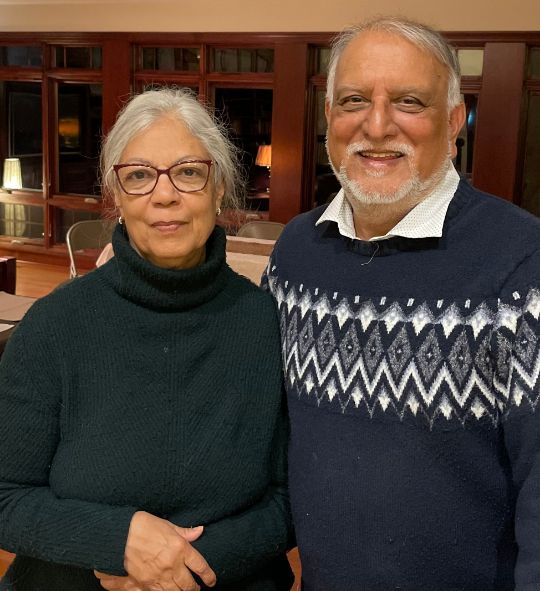 | | | |
| --- | --- | --- |
| | PUBLICATIONS | |
| | How the Bible Created Modern India (forthcoming, co-authored) | 2023 |
| | Conversion: The Revolution India Needs | 2023 |
| | The Third Education Revolution, editor | 2021 |
| | This Book Changed Everything - Volume I: The Bible's Amazing Impact on Our World | 2019 |
| | Healing The Open Wounds of Islam (German) | 2016 |
| | Why Are We Backward? Exploring the Roots, Exploding the Myths, Embracing True Hope | 2013 |
| | The Book that Made Your World: How the Bible Created the Soul of Western Civilization | 2011 |
| | Truth and Transformation: A Manifesto for Ailing Nations | 2009 |
| | Obama, Presidency, and the Bible | 2008 |
| | Astrology | 2002 |
| | Spirituality of Hate: A Futuristic Perspective on Indo-Pakistan Conflict | 2002 |
| | The Quest for Freedom and Dignity: Caste, Conversion, and Cultural Revolution | 2001 |
| | Burnt Alive: The Staines and the God They Loved — with Vijay Martis, M.B. Desai, Babu K. Verghese, and Radha Samuel | 2000 |
| | Why Must You Convert? | 1999 |
| | Corruption Vs. True Spirituality — with Francis Schaeffer | 1998 |
| | William Carey and the Regeneration of India — with Ruth Mangalwadi and Darrow L. Miller | 1997 |
| | India: The Grand Experiment | 1997 |
| | Missionary Conspiracy: Letters to a Postmodern Hindu | 1996 |
| | What Liberates a Woman?: The Story of Pandita Ramabai - A Builder of Modern India — with Nicol McNicol | 1996 |
| | The Legacy of William Carey: A Model for the Transformation of a Culture — with Ruth Mangalwadi | 1993 |
| | In Search of Self: Beyond the New Age; also titled When the New Age Gets Old: Looking for a Greater Spirituality | 1992 |
| | Truth and Social Reform | 1986 |
| | The World of Gurus | 1977 |
In 1987 Vishal attended the Villars Consultation on "Biblical Mandates for Relief and Development" and was one of the signatories of the Villars statement. In that same year, Vishal was able to mount a successful campaign with the support of the press and many politicians against the revival of Sati (widow burning). This experience led later to an important publication, co-authored with his wife Ruth, on William Carey and the Regeneration of India (1997).

While concentrating on critical social and economic issues, particularly as experienced in India, Vishal also engaged in a penetrating critique of wider spiritual and intellectual trends with his When the New Age Gets Old: Looking for A Greater Spirituality (1992) – a work that received rave reviews from Os Guinness. During this period, Hindutva attacks on Christian missions led Vishal to respond with his book Missionary Conspiracy: Letters to A Postmodern Hindu (1996), followed by his India: The Grand Experiment (1997). Vishal's direct engagement with poverty and persecution in this context gave him keen insight into the socio-religious roots of the economic backwardness he encountered.

Between 1988 to 1994, Vishal was an assistant to Kanshiram, the founder of the Bahujan Samaj Party, and in 1996, he began lecturing, around the world. From 1999-2000 Vishal and Ruth, spent a year in Cambridge at the University library, researching the Bible's role in the development of Western culture. Later that year, they were invited to the United States to make a television series on the Bible as the most influential book of the second millennium AD. This research was to form the basis for several important books in the next decade.

In 2001 Vishal published The Quest for Freedom and Dignity: Cast, Conversion & Cultural Revolution. This study zeroed in on the religious roots of India's problems and boldly proclaimed Christianity as the solution. Vishal has returned to this topic with renewed passion and extensive research in his soon-to-be-published study Conversion: The Revolution India Needs (2023). In this work, Vishal poses the question bluntly: "Is spiritual conversion necessary to replace [a] culture of lies and corruption with truth as well as integrity, oppression and violence with an ability to wash each other's feet"? The answer is a resounding yes, and the only kind of spiritual conversion that can produce such results is through the power of the Christian Gospel. In 2003, William Carey International University awarded him a Doctorate in Law.

THE EMERGENCE
OF A GLOBAL MOVEMENT
A movement growing out of Vishal's work was launched in Minnesota in 2003 with the founding of Book of the Millennium International (BOMI), better known as the Revelation Movement. It was in the context of this movement that Vishal's seminal work: Truth and Transformation: A Manifesto for Ailing Nations was published by YWAM in 2009. In this work, Vishal probes two key questions that will be addressed in this tour: "Can Nations be Healed?" and "How does the Gospel Transform?" In an appendix the book, T.M. Moore of the Wilberforce Forum, lays out a key strategic move entailed by Vishal's work in the shift "from Worldview Programs to Kingdom Movement." Vishal gave further shape to this "kingdom movement" through the publication of The Book That Made Your World: How the Bible Created the Soul of Western Civilization (2011). [An insightful interview with Vishal on the importance of this study is included here.] This book was followed by his study: Why Are We Backward? Exploring the Roots, Exploding the Myths, Embracing True Hope (2013). These works formed the theological foundations of the movement, which now took on institutional expression on a number of continents.

A group of Indonesian leaders was the first to translate Truth and Transformation and its vision into action in 2010. Five registered charities came together to start a new organization, Trampil. It began transforming Christian education in Indonesia by offering online degrees in education to untrained or poorly trained teachers who were already working in Christian schools for the poor.

Vishal's vision for the church and internet-based college education was institutionalized in two organizations: CACHE (Church and Community Centred Higher Education) for implementation of this vision in Africa and other non-western nations, along with Virtues Incfor implementing the concept in the USA. During this period, Vishal also wrote regularly for the New Delhi-based bilingual monthly FORWARD Press. From 2014-17 he served as an Honorary Professor of Applied Theology and the Director of the Centre for Human Resource Development at Sam Higginbottom University of Agriculture, Technology, and Sciences in Allahabad, India.

Consultations in Kona, Hawaii, and India (2011), in California and Florida (2012) began building global support for the movement. These efforts culminated in the founding of the Virtues Campus in Minnesota in 2014-15 under the leadership of David Glesne. Dave also leads a weekly prayer and sharing session that now forms a spiritual centre of gravity for the movement with a weekly prayer meeting bringing together 50-60 persons from four continents to pray and share updates on needs and opportunities.

| | | | |
| --- | --- | --- | --- |
| | | The Third Education Revolution | Table of Contents |
| | I | The Third Education Revolution | |
| | 1 | Towards A Third Education Revolution | Vishal Mangalwadi |
| | 2 | Three Teachers Who Made Our World | David Marshall |
| | 3 | Loss and Recovery of Virtue in Education | Andreas Wieland |
| | 4 | From Home-School to Church-College | Joe Suozzo |
| | 5 | Blended Learning: Student-Centered Education | Amanda Forbes |
| | 6 | From Rote Learning to Imaginal Education | Tom Rudmik |
| | 7 | Academic Pastors: Recovering the Gift of Teachers | David Glesne |
| | 8 | College-Pedia: A New Knowledge Ecosystem | Ashish Alexander |
| | 9 | God's E-Mandate | Giftson Selladurai |
| | 10 | C. S. Lewis College | D. Bastedo & G. Anacker |
| | 11 | The Business of Educating the Poor | Jason Benedict |
| | 12 | The Revolution's Intellectuel Nucleus | Hans-Joachim Hahn |
| | 13 | A 100 Year Vision | Samson Selladurai |
| | II | The Rise and Fall of Western Education | |
| | 14 | The Pietist Origin of the Modern University | Gottfried Sommer |
| | 15 | How the Bible Educated America to Live in Liberty | Stephen Mcdowell |
| | 16 | The University's Failed Worldview: Secular Humanism | Karla Perry |
| | 17 | The Fall of American Education | David Marshall |
| | 18 | Intolerance in Postmodern University | Pablo Munoz Iturrieta |
| | 19 | Kids in Contemporary Cultural Chaos | David McDonald |
| | 20 | Reclaiming the Heritage of our Civilization | Gayne Anacker |
| | III | The Great Commission to Educate Nations | |
| | 21 | The Great Commission and the Healing of the Nations | Bruce Friesen |
| | 22 | Indonesia: Education Revolution Has Begun | Takim Andriono |
| | 23 | Education for Transforming Uganda | Joshua Lwere |
| | 24 | Church-University Partnership: A New Paradigm | John Senyonyi |
| | 25 | Discipling South America: Getting It Right This Time | Ricardo Rodriguez |
| | 26 | Brazil: A Beauty In Search of Her Soul | Heliel G. de Carvalho & Paulo Borges Júnior |
| | 27 | Revolution Across Cultures | Mark Harris |
| | 28 | Mastering the Media | Vishal Mangalwadi |
| | IV | Guest Postscript | |
| | 29 | No Option! Clear out the Rubble and Rebuild! | Anthony Esolen |
| | V | Miscellaneous | |
| | 30 | How to Participate in the Education Revolution | |
| | 31 | Chapter Contributors | |
| | 32 | Acknowledgements | |
| | 33 | Index | |
LAUNCHING
THE THIRD EDUCATION REVOLUTION
In the years leading up to the pandemic, a series of consultations based on Vishal's work were held in India, Brazil, Colombia, Germany, Switzerland, Uganda, Kenya, Phoenix (AZ), and Seoul (S. Korea). Publication of Vishal's major new study This Book Changed Everything: The Bible's Amazing Impact on Our World (2019) added considerable momentum to the movement, and formed the immediate context for the completion of a major collaborative work, The Third Education Revolution (2021), which lays out the foundations and strategy for placing the Church, as the body of Christ, at the centre of a global revival of Christian learning and education from elementary to graduate level and beyond. Given the fundamental importance of this work, a detailed analysis of the book will be provided in a separate document. In-person consultations resumed this year in Philadelphia and focused on the nature and calling of the Church to realize God's purpose to bless all nations through the fulfillment of the Great Commission-- especially in the realm of education.

One positive result of the lock-downs through 2020-2022, was that the TER movement spread globally and took root through hundreds of zoom chats, prayer and planning meetings, online lectures, consultations, and conferences. During this period the team worked very hard with Vishal to produce several dozen videos on YouTube.com/VishalMangalwadi and TruthMatters.tv. Daily and weekly Prayer Fellowships have now formed around the world. The central Prayer Fellowship happens on zoom on Wednesdays at 11 am (CST) Some of the TER culture warriors have now organized themselves as non-profit charities under the banner "Truth and Transformation," registered independently in Germany, Nordic Europe, and Canada.

In India, almost a thousand Prayer Warriors have come together under the banner Bless India Project. About 30 of them have co-authored a manuscript, How the Bible Created Modern India. Others have widened the educational vision to also transform the Indian Church to become the catalyst to make healthcare and just agricultural services available to the poor. They will prepare future leaders to impact spheres such as literary, artistic, civil services, and jurisprudence.

Korean missionary entrepreneurs who hosted our international consultation in 2020 have now organized "Billon Souls Harvest." They have translated The Third Education Revolution into Korean and embraced the vision of establishing a million micro-schools as means of disciplining nations.

Christian leaders from many nations in Africa, South America, and Orthodox and Roman Catholic Europe have come forward to participate in the program.

A YWAM-led effort, coordinating several ministries to refugees, has decided to partner with them in making local Church and technology based-Hybrid education an important component in transforming refugees into builders of great nations (like John Knox). They would like to use the curricula, training, and Learning Management System of the Wisdom Village to transform minds, lives, and nations. The movement is led by an international Board that meets on Fridays.